I read with great interest an article by Theresa Agovino titled "Redefining New York City's skyscrapers" on Crain's New York Business.com this afternoon due in part to my previous employment in the NYPD's Counterterrorism Division's Threat Reduction and Infrastructure Protection Section (TRIPS). My role then, as it is now, was to perform assessments of existing and emerging physical security programs. At the root of Ms. Agovino's article (as well as for the "conundrum that has bedeviled construction professionals) is the need for facility owner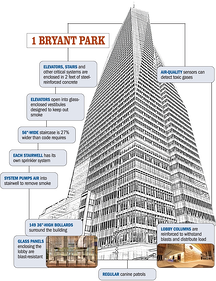 s and operators to conduct a thorough threat assessment prior to commencing a design. All too often building "security" systems are designed absent a comprehensive understanding of the threats that need to be mitigated. During my tenure at TRIPS we developed a manual to assist designers entitled "Engineering Security, Protective Design for High Risk Buildings". The intent was written for the use of "building owners and design professionals as they select and implement appropriate protective security design measures". Although far from perfect, the manual provides a clear articulation for the need to understand the threat prior to a building's design.
Security professionals and design professional working together will undoubtedly lead to more secure and aesthetically pleasing buildings. An overly fortified "bunker" of a building or the encroachment of bollards into public space should be a last resort. Finding the balance of providing a safe, secure building to work or reside in with the need to create functional and interesting architecture is difficult but not impossible. Inclusion of a security consultant to the design process is critical in advancing this ideal.
To read the complete article please visit: http://www.crainsnewyork.com/article/20110508/9_11/305089979&template=printart